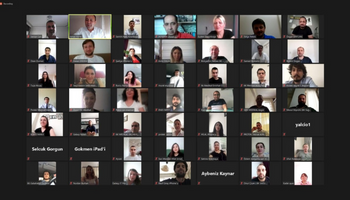 Çalışanlarımız için düzenli olarak yaptığımız İş etiği ve yasalara uyum eğitiminin ikinci ayagini 14 Mayıs 2020 tarihinde Zoom platformun uzerinden gerçekleştirdik. Bu eğitimde 6K Medikal (distributor), Protek Medikal (distributor) ve alt bayilerimiz San Medikal, 6k Sağlık, İzmir Hekimsan Medikalin tüm yönetici ve personeli hazır bulundu. Medtronic'ten ve Üyesi olduğumuz SADER (Sağlık Gereçleri Üreticileri ve Temsilcileri Derneği'den gözlemciler de eğitimimize katkıda bulundular.
We participated in the concordance training full staff
On the 14th of May, 2020, we carried out the second leg of the work ethics and legal compliance training that we regularly do for our employees on the Zoom platform.
All managers and personnel of 6K Medical (distributor), Protek Medical (distributor) and our sub-dealers San Medikal, 6k Health, İzmir Hekimsan Medikal were present in this training. Observers from Medtronic and SADER (Health Care Products Manufacturers and Representatives), which we are a part of, also joined us on our training.